The Timeless Appeal of Tote Bags: Versatility, Style, and Luxury in One Package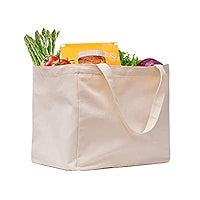 A stylish woman is not judged solely by her clothes, but also by the accessories she chooses to complement her outfit. Among these, a versatile piece that should never be missing from her collection is the tote bag, an accessory that combines practicality and style brilliantly to meet the demands of the modern woman. But what exactly is a tote bag, why is it often expensive, and is it still in trend today? To answer these and other questions, let's take a closer look.
What is a Tote Bag Used for?
At its core, a tote bag is a large, often square or rectangular bag with parallel handles originating from its sides. The name 'tote' is derived from the verb 'to tote,' which means 'to carry'; evidently, the bag is designed with carrying in mind – be it work essentials, groceries, beach items, or even baby supplies.
Its spaciousness, durability, and the ease with which it can be used have rendered the tote bag a popular choice among different audiences: from students carting around books and laptops to professionals with their work gear and parents toting their kids' essentials.
Understand why Tote Bags Can Be Expensive
With tote bags practicality and widespread use, one might wonder, why are some tote bags so expensive? The answer lies behind a number of factors including the branding, the quality of the materials used, craftsmanship, and the ultimate perception of luxury.
Luxury brands like Marc Jacobs, Gucci, or Chanel might price their tote bags at a premium due to the brand's reputation, the materials used – such as high-quality leather, and the intricate detailing involved in crafting each bag. These luxury bags are often a long-term investment, meant to last for several years while maintaining their aesthetic appeal.
Is the Tote Bag Trendy?
Absolutely! The tote bag has never really left the fashion scene. Its versatility and practicality have preserved its status as a timeless accessory, seamlessly fitting into various fashion trends over time. In fact, tote bags are experiencing renewed popularity thanks to the rise of sustainability in fashion choices – with many individuals opting for reusable totes over single-use plastic bags.
Moreover, top designers continue to present bold reinterpretations of the classic tote, giving it a contemporary touch while preserving its essence. Luxury brands like Marc Jacobs continually feature tote bags in their collections, affirming the tote bag's position in the luxury bag scene.
Marc Jacobs: The Synonym of Luxury Bags
In the world of luxury bags, the name Marc Jacobs often comes up. An American designer recognized worldwide for his fashion contributions, Marc Jacobs offers high-end collections that harmonize tradition with a daring, avant-garde edge.
Particularly famous for his tote bags, Jacobs knows how to mix the functionality and timelessness of the tote bag with a luxurious twist. The Marc Jacobs tote is more than just a bag—it's a statement of style, sophistication, and premium quality.
Final Words: The Undying Love for Tote Bags
Whether you're searching for the ideal accessory to complete your outfit, a practical carry-all for your day-to-day essentials, or a long-term investment in a luxury item, the tote bag ticks all these boxes. With designers constantly reimagining the tote bag, we can confidently say that this timeless accessory isn't going anywhere.
Remember, a quality tote bag, no matter the price tag, is a testament to your style and emphasis on functionality. So why not invest in one (or a few) and elevate your accessory game to a whole new level?